Business Collaboration Platform Essentials – Google Workspace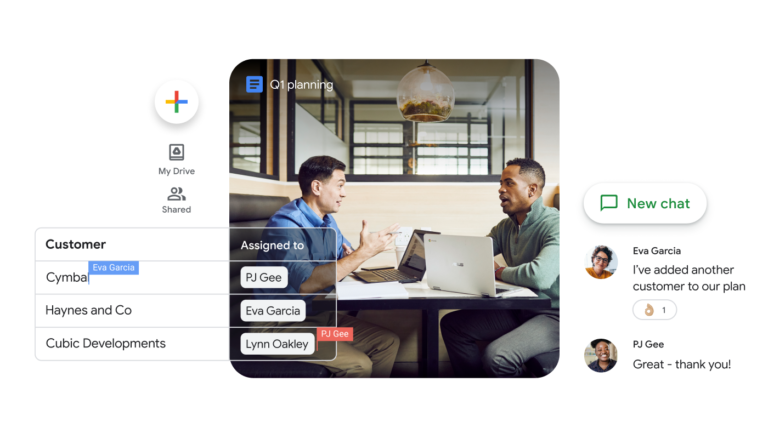 An affordable cloud productivity plan that provides collaboration tools without built-in Gmail
What is the difference between Google Workspace Essentials Starter and Google's standalone apps
Google Workspace Essentials Starter was built for people to use at work with their current email addresses and to collaborate with their team members. You'll receive a number of additional business-grade services at no charge, including the Microsoft Outlook plug-in for Drive and Meet and team management features like adding and removing users for easier collaboration and file sharing.
We currently use Microsoft Office. Does Google Workspace Essentials Starter work with Microsoft Office files?
Yes. When you upload Microsoft Office files to Google Drive, you can directly edit, comment, and collaborate in them using Google Docs, Sheets, and Slides. All changes are auto-saved in the original Microsoft Office format. Learn more or watch a video for details.
What apps are included with Google Workspace Essentials Starter?
Google Drive: Store, access, and share your files in one secure place.
Google Docs: Word processing for teams.
Google Sheets: Collaborative, smart, secure spreadsheets for fast-moving organizations.
Google Slides: Beautiful presentations created together.
Google Meet: Secure video meetings for teams and businesses.
Google Chat: Simplified 1:1 messaging and group collaboration.
Google Calendar: Integrated online calendars designed for teams.
Google Forms: Easy to create surveys and forms for teams.
Google Sites: Effortlessly create impactful team sites.
Google Keep: Keep organized. Capture inspiration and to-dos effortlessly.
What apps are included with Google Workspace Essenavtials Starter?
Paid editions of Google Workspace such as Business Starter, Business Standard, Business Plus and Enterprise have custom business email management, more storage per user, advanced video meeting features, and enterprise-grade admin controls and more. If you need custom email, you'll want to consider Google Workspace, starting at $6 per user per month.
If you do not need custom email but need more of the features mentioned above, you can explore upgrading to Google Workspace Enterprise Essentials.